Join us at Christmas Island for festive fun and an unforgettable and unique Christmas experience.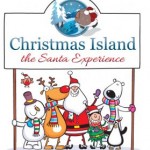 Your experience will include a very special journey to Christmas Island where you'll meet the big man himself, have fun with the elves and get your photo taken in a giant snow globe. If you're good and paying attention, then you may even see Rudolph!
All adults and children will receive one free hot drink (tea/coffee/hot chocolate).
Experience this special time of year with your family and friends at Christmas Island!!
Don't forget to print off and colour/decorate your Colouring-Poster and bring with you on your scheduled day. Don't be afraid to get creative!
Before or after your island visit you can take part in the festive fun with the Christmas movie room, writing letters to Santa with the help of Mrs Claus, walking around the winter wonderland with thousands of twinkling lights, exerting energy in the giant Snowman jumper, playing in the children's adventure park, hot food and drink all day, shopping in the discounted Christmas store and much more to be revealed during your visit.
Your scheduled ticket time will start from Santa's dock on the mainland. From here you will board Santa's magical sleigh boat with the help of Santa's elves. Once aboard and seated, the boat will set off for a magical journey around Christmas Island. No need to worry about the weather at this time as the boat is fully enclosed and covered. So sit back, relax and set your eyes amongst all the twinkling lights, festive decorations and sing to the music playing on Santa's boat.
On arrival to Christmas Island the elves will dock Santa's sleigh boat and help families find their way to the first of Santa's igloos.
Be sure to bring your own camera, as one of Santa's helpers will be taking your family photo inside our giant Christmas snow globe. Most "Santa Experiences" charge for these photos, however we want to keep costs down for our guests to offer you the best Santa Experience.
Therefore this photo will be free of charge, but again please remember that you need to bring your own camera for your family photo.
These photos will be great to use for Christmas cards, to email to your friends and family, to post on Facebook to share your Christmas experience with others, to send as a postcard and so on.
Capture the happy moment forever with a family photo inside our giant snow globe!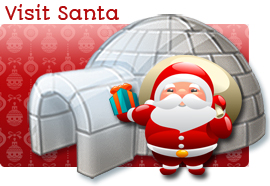 Igloo 2 - Santa Time!
Now it's time to meet Santa!
Follow the tunnel from Igloo 1 to Igloo 2 to meet the big man himself. Santa will be waiting in his grand chair beside his giant Christmas tree decorated with hundreds of twinkling red lights.
Visit with Santa and tell him what your family will be doing for Christmas this year. If the children have been good all year and are on their best behaviour, then on permission from the parents/guardians, each child will receive a present to take home.
Be sure to have your camera ready again here for a magical photo with Santa and the giant Christmas tree.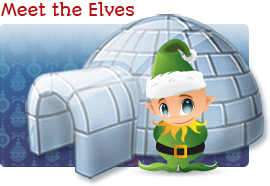 Igloo 3 - Have Fun with the Elves
Following the tunnel from Igloo 2 to Igloo 3 will bring you into the Elves dome where you can open your presents, dance around the Christmas tree, have fun with the floating bubbles, enjoy a candy cane and sing until your heart's content.
Departure from Christmas Island will take place after Igloo 3. The elves will take you back to Santa's sleigh boat for one last exciting journey around Christmas Island and back to the mainland. Be sure to keep an eye out for Rudolph, as he loves playing amongst the trees not too far from the Island.
Christmas Island will be sure to fill your family full of laughter, fun and excitement!