Join us at Christmas Island for Festive Fun and an Unforgettable and Unique Christmas Experience!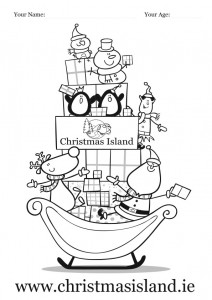 Your experience will include an exciting journey on The North Pole Express, a trip to Christmas Island where you'll meet the Elves who will try to bring out your creative side, get your family photo taken in Santa's giant red sleigh (if you have selected this option) and then off to dancing and singing with the Elves. You will then depart Christmas Island on Santa's giant sleigh boat headed to see the big man himself in Santa's Grotto (in adverse weather conditions everyone will visit Santa's Grotto by foot rather than boat).
Most families are with us for 2 hours (Christmas Experience and extra activities included in the price)
If you have booked your ticket at the end of the day, then you need to arrive earlier to take part in the other activities on site as they close at 9pm. If you booked the first time slot of the day, then you can stay on after your visit to Christmas Island.
All children will receive a

Gift & Sweet Treat from Santa

, a

Medal from the Elves

and a Magnetic Snowman Buddy

Bring your camera for lots of

magical photo opportunities

Option for

professional family photo

on Santa's giant sleigh (extra fee)
Cafe on site for food/drink and Stocking Stuffer Gift Shop (extra fee)

Experience this Special Time of Year with your Family and Friends at Christmas Island!
EXTRA ACTIVITIES
Before or after your island visit (depending on the time you booked) you can take part in the festive fun with the Christmas movie room, letters to Santa, walking around the winter wonderland with thousands of twinkling lights,  Santa's adventure mini golf and playing in the children's adventure park.
POSTER COMPETITION
Don't forget to print off and colour/decorate your Colouring-Poster and bring with you on your scheduled day. Don't be afraid to get creative! The winning poster will be posted to our Christmas Island Facebook page on December 24th!!
BEST DRESSED (Get in the Festive Spirit and wear your Christmas Jumpers and Accessories)
We were amazed with all the families last year who made such a brilliant effort to visit us in all their "Christmas Gear", so the Best Dressed Christmas Competition is on again!!!  Don't be afraid to have some FUN and surprise us with your creativity!!! Photos will be posted on our Christmas Island Facebook page throughout the Christmas Island experience and winners will be posted to our page on December 24th.
HELP US HELP OTHERS THIS CHRISTMAS
When purchasing your Christmas Island tickets, you have the option to donate just €1.00. For every €1.00 donated, Christmas Island will donate another €1.00. All proceeds go to Crumlin's Children's Hospital.
Since 2014 this event has donated €16,320.00. We hope to raise even more again this year!
Igloo 1: Time to get Creative

Your journey will begin on The North Pole Express (Santa's magical white train)!
On arrival to Christmas Island you'll enter Santa's largest Igloo to:
Meet the Elves
Get Creative and make a Christmas decoration.
Get your photo taken on Santa's giant red sleigh (if you have selected this option)
Hand in your Colouring Posters (don't forget to print this out at home and decorate) for the Colouring Competition! Winning posters will be posted to the Christmas Island Facebook page on December 24th.
Igloo 2: Dance & Sing with the Elves
Following the tunnel from Igloo 1 to Igloo 2 will bring you into the Elves dome where everyone will mingle with the Elves, dance around the Christmas tree and sing until your heart's content. All kid's receive a Magnetic Snowman Buddy.
Departure from Christmas Island will take place after Igloo 2.  The elves will guide you out to Santa's giant sleigh boat. Once aboard and seated, the boat will set off for an exciting journey to Santa's Grotto! No need to worry about the weather as the boat is fully enclosed and covered, however it has been known that festive cheer and merry songs are needed to get this boat moving!!  Kid's receive an Elf Medal for helping to guide the boat to Santa's Grotto.
So sit back, relax and set your eyes among all the twinkling lights, festive decorations and sing to the music on Santa's boat. (Please note the boat will not operate in adverse weather conditions and the Elves will bring you to Santa's Grotto by foot)
Santa's Grotto: Santa Time!
Now it's time to meet Santa!
On arrival to Santa's Dock the elves will help everyone off the sleigh boat and guide you over to Santa's Grotto. Once inside make yourself at home in the cosy grotto while Santa's helper takes each family individually to see Santa.
Visit with Santa and tell him what your family will be doing for Christmas this year. If the children have been good all year and are on their best behaviour, then on permission from the parents/guardians each child will receive a present to take home.
Christmas Island and Santa's Grotto will be sure to fill your family full of laughter, fun and excitement!