Join us at Christmas Island for Festive Fun and an Unforgettable and Unique Christmas Experience!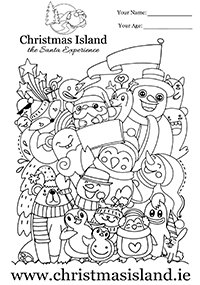 Your experience will include an exciting journey on The North Pole Express, a trip to Christmas Island where you'll meet the Elves who will try to bring out your creative side before moving on to one of Santa's head elves for a story and game. Before leaving Christmas Island families will individually meet with Santa before heading to the Elves Gift Exchange where this year the children will pick a present to take home.
Please note at the moment Christmas Island tickets are only available for guests staying overnight. We will hopefully be able to release day visits at a later time.
Families will remain in their family pod throughout the experience. If your friends book the same time as you, then please remember you will have to remain in your family pod and no mixing of families will be allowed.
The Christmas Experience begins on the North Pole Express train. Families will travel by train to Christmas Island. At Christmas Island families will make a Christmas decoration, visit with Santa's elves and meet the big man himself. The journey will take approximately 50-60 minutes.
Each family will meet Santa individually with social distancing guidelines in place. Your time with Santa will be slightly shorter than previous years to minimise contact time.
Each child will receive a Token from Santa and children will pick their own present this year at the Elves Gift Exchange.
After Santa, families will walk from Christmas Island back around to The Lakehouse (passing the Stocking Stuffer Gift Shop on the way). The Elves Gift Exchange is located upstairs in The Lakehouse. Children will pick their gift, and families who pre-booked a photo will have their photo taken on Santa's sleigh.
If you have booked your ticket at the end of the day, then you need to arrive earlier if you'd like to get food/drink. If you booked the first time slot of the day, then you can stay on after your visit to Christmas Island.

The playgrounds and mini golf will be open weather permitting. These activities close at 4pm.
Bring your camera for lots of

magical photo opportunities

Option for

professional family photo on Santa's sleigh

 (extra fee). This must be pre-booked this year due to Covid.
The Lakehouse Restaurant & Ice Cream Shop is on site for food/treats/drinks and is open until 9PM.

This year will of course be different, however the Christmas Experience will be just as magical!
POSTER COMPETITION
Don't forget to print off and colour/decorate your Colouring Poster and bring with you on your scheduled day. Don't be afraid to get creative! The winning poster will be posted to our Christmas Island Facebook page on December 24th!! Children will hand in their Colouring Posters to the Elf at the Elves Gift Exchange. Our new 2020 colouring page will be available on our website this Monday when tickets go on sale.
Christmas Jumpers Best Dressed Family (Get in the Festive Spirit and wear your Christmas Jumpers and Accessories)
We love all things Christmas, so don't be afraid to wear your favourite Christmas jumper and accessories to go with it. We will have a prize for the "Best Dressed Christmassy Family". All you have to do to enter is take a photo of your family on site at Christmas Island and send us your photo on Facebook. The winning family's photo will be posted to our Facebook page on December 24th.
Igloo 1: Time to get Creative
Your journey will begin on The North Pole Express train!
On arrival to Christmas Island you'll enter Santa's largest Igloo to:
Meet the Elves
Get Creative and make a Christmas decoration
________________________________________
Igloo 2: A Story and Game
with Santa's Head Elf
Following the tunnel from Igloo 1 to Igloo 2 will bring you into the Elves dome where everyone will hear a story and play a game with Santa's head elf.
________________________________________
Santa Time!
Now it's time to meet Santa!
Visit with Santa and tell him what your family will be doing for Christmas this year.
If the children have been good all year and are on their best behaviour, then each child will receive a Santa Token. After Santa families will visit the Elves Gift Exchange to pick a present they love to take home.
---
Christmas Island and Santa's Grotto will be sure to fill your family full of laughter, fun and excitement!