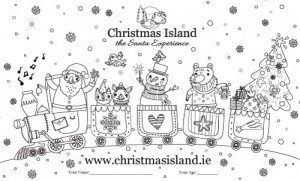 Your Ticket
Please know your Booking Reference number (you don't need to print anything) and dress appropriately, as this is both an indoor and outdoor event. You must be checked in 30 minutes before your scheduled time.  Car parking is free on site.
Your journey will take approximately 1 hour. If you're getting food on site and have booked a family photo, then most families are with us for 2 hours.  If you have booked your ticket at the end of the day, then please feel free to arrive earlier on the day. If you booked the first time slot of the day, then you can stay on after your visit to Christmas Island.
Rates
€16.50 Adult
€22.50 Child
€10.00 Infant
Everyone will make a Christmas ornament for their tree.  All children receive a present from Santa, a plush Elf toy and a magic key.
Opening Times
Each day we open 1 hour before the first scheduled time slot and we close 1 hour and 30 minutes after the last scheduled time slot. Your scheduled time on your ticket is when your journey begins on The North Pole Express. Each event must start on time. If you are late for your scheduled time, then you may not have access to the island if all time slots are full. Please allow sufficient time for any unforeseen traffic problems, weather, etc. The Lakehouse restaurant closes at 9 p.m. each night.
Entrance to Christmas Island
IMPORTANT UPDATE: The entrance to Christmas Island has changed.  Please put this post code into Google Maps to get to our new entrance: A67 CX62. This is the same entrance for The Lakehouse restaurant.
2019 Updates
The layout/routine for Christmas Island 2019 has been updated and changed to offer all our guests an even better Christmas experience!
Also please note that the boat will not be used this year due to high insurance costs across the country. We are working hard to resolve this situation, but we cannot guarantee it will be resolved for this season. Guests will visit Christmas Island by bridge and the Elves' New Workshop and Secret Portal (new for 2019)!
Accessibility
Please note buggies are not allowed on The North Pole Express (they can be left at designated areas). The park is wheelchair friendly, however access to the train is not.  There is bridge access to Christmas Island.
Weather
This is both an indoor and outdoor event, so please dress accordingly. The event still operates in the rain and the wind, so if it's raining on the day your scheduled to come, then please bring a rain coat! The event is mostly indoors, however you will be outdoors walking from one area to the next. If the event needs to be cancelled for any reason at all (which has not happened to date), then you will be notified at the time the event is called off.
The Lakehouse Restaurant & Ice Cream Parlour
Hot food, desserts and drinks are served all day from our restaurant with both indoor and outdoor seating.  The restaurant closes each night at 9 p.m.  If you've booked one of the later time slots of the day, then please be sure to arrive much earlier for food.
Photos
Video recording is not allowed on site, however there will be lots of photo opportunities so don't forget your camera.
Pets
Pets are not allowed.
Booking Your Tickets
Tickets can only be purchased online through our website www.christmasisland.ie
Questions/Comments
For further questions please email info@christmasisland.ie (emails are answered daily).
POSTER COMPETITION
Don't forget to print off and colour/decorate your Colouring Poster and bring with you on your scheduled day. Don't be afraid to get creative! The winning poster will be posted to our Christmas Island Facebook page on December 24th!!
BEST DRESSED (Get in the Festive Spirit and wear your Christmas Jumpers and Accessories)
We were amazed with all the families last year who made such a brilliant effort to visit us in all their "Christmas Gear", so for this year we have decided to have a competition with some great prizes for these families!!!  So don't be afraid to have some FUN and surprise us with your creativity!!! Photos will be posted on our Christmas Island Facebook page throughout the Christmas Island experience dates and winners will be posted to our page on December 24th.
HELP US HELP OTHERS THIS CHRISTMAS
When purchasing your Christmas Island tickets, you have the option to donate just €1.00. For every €1.00 donated, Christmas Island will donate another €1.00. All money raised will go towards Christmas presents for children at Crumlin's Children's Hospital.
Since 2014 we have donated a total of €21,396.
We once again hope to raise even more this year with your help!