Bookings begin at 10am on Tuesday,15th August 2023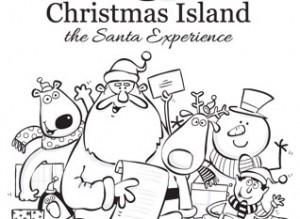 Christmas Island – the Santa Experience
Families can book the Christmas Island experience as a day visit, or families can stay overnight in one of our boutique lodges or glamping lodges.
Opening Dates:
November Dates: 24th, 25th & 26th
December Dates: Every Thursday to Sunday
Your Christmas Island Experience includes:
A journey on the North Pole Express train
Adults and children make a Christmas ornament with the Elves
Elf Entertainment with Santa's Head Elves
A Journey on Santa's House Boat to Santa's Grotto
Personal Santa Visit – children and infants receive a present
Christmas cinema room
Letters to Santa
Playgrounds & Games Room
Extras Available On The Day (extra fee):
Christmas Family Photo

– Receive an 8×6 photo of your family on Santa's Sleigh displayed in a Christmas Island photo mount. A lovely Christmas keepsake!

Make a Christmas Craft

– Paint/decorate your very own Christmas craft to take home. Your craft session begins 1 hour before your Christmas experience. For example, if you booked tickets for 11AM, then you will begin your craft from 10AM.
Winter Downhill Tubing Activity – no snow required!  Experience the thrill of sliding down our new downhill tubing track. Suitable for both adults and kids (ages 5 plus). Weight restriction 16 stone (224 lbs). Unlimited use on the day. This activity opens 1 hour after the first time slot of the day and closes at 9PM. Families can avail of this activity before or after their Christmas experience depending on what time you booked your Christmas Island tickets.

The Lakehouse Restaurant

and ice cream parlour is located on site and serving a daily Christmas Carvery as well as kid's meals, desserts and drinks. The Lakehouse opens 1 hour before the first time slot of the day and closes at 9PM each evening.
Christmas Island Rates
€19.50 Adult
€28.50 Child
€10.00 Infant
Everyone attending Christmas Island must have a ticket (this includes all adults, children and infants).
Non ticket holders will not be allowed through the gates.
Christmas Island + Overnight Stay 2023
Each accommodation unit at the resort is an individual lodge. The resort offers a few different accommodation types and further details/photos can be viewed through the main Hidden Valley website: www.hiddenvalley.ie
Please Note: The lodges are booked through the Christmas Island website (not through the Hidden Valley website).
Your Ticket
Please know your Booking Reference number (you don't need to print anything) and dress appropriately, as this is both an indoor and outdoor event. You must be checked in 30 minutes before your scheduled time.  Car parking is free on site.
Your journey will take approximately 1 hour. If you're getting food on site and have booked a family photo, downhill tubing and/or the Christmas Craft, then most families are with us for 2 to 2.5 hours.
If you have booked your ticket at the end of the day, then please feel free to arrive earlier on the day to avail of the extra facilities as they are all closed by 9PM. If you booked the first time slot of the day, then you can stay on after your experience to avail of the extra facilities.
The Family Photo on Santa's Sleigh and the Christmas Craft both need to be pre-booked online at time of booking. There may not be availability on the day to purchase these items if they are fully booked.
Opening Times
Each day the gates open 1 hour before the first scheduled time slot. Your scheduled time on your ticket is when your journey begins on The North Pole Express. Each event must start on time. If you are late for your scheduled time, then you may not have access to the Christmas Experience if all time slots are full. Please allow sufficient time for any unforeseen traffic problems, weather, etc.
The Lakehouse restaurant, cinema, gift shop and photo room all close by 9PM each night.
Entrance to Christmas Island
Please put this post code into Google Maps to get to our entrance: A67 CX62. This is the same entrance for The Lakehouse.
Accessibility
The resort is wheelchair friendly, however access to the train is not.  There is bridge access to Christmas Island.
Buggies are permitted throughout the event, however they must be small/collapsable to fit on the train. Buggies that do not fit must be left in your vehicle to be picked up after the Christmas experience.
Weather
This is both an indoor and outdoor event, so please dress accordingly. The event still operates in the rain and the wind, so if it's raining on the day you are scheduled to come, then please bring a rain coat!
The Lakehouse Restaurant & Ice Cream Parlour
Hot food, desserts and drinks are served all day from our restaurant with both indoor and outdoor seating.  The restaurant closes each night at 9PM.  If you've booked one of the later time slots of the day, then please be sure to arrive much earlier for food. The Lakehouse will be serving a Christmas carvery, soup, kid's meals, desserts and drinks. Please see The Lakehouse Restaurant page for more details.
Cancellations
All sales are final and non-refundable. Customers can change their date/time of booking with a minimum of 72 hours notice.
If you are unable to attend, your tickets can be transferred to other family and friends. There is a €10 administration fee to change the names and details of the tickets.
Photos
Video recording is not allowed on site, however there will be lots of photo opportunities so don't forget your camera.
Pets
Pets are not allowed.
Booking Your Tickets
Tickets can only be purchased online through our website www.christmasisland.ie
Sign your Waiver
A waiver link is emailed to each booking holder along with the tickets. Waivers must be filled out before arrival. Families without completed waivers will be refused entry at the gate. Waivers are cross referenced with each booking.
FAQ'S
Please have a look at our FAQ's page as it has a lot more information. We recommend reading this page before booking.
Questions/Comments
For further questions please email [email protected] (emails are answered daily).
POSTER COMPETITION
Don't forget to print off and colour/decorate your Colouring Poster and bring with you on your scheduled day. Don't be afraid to get creative! The winning poster will be posted to our Christmas Island Facebook page on December 24th!! Children will hand in their Colouring Posters to Mrs. Claus.
CHRISTMAS JUMPERS – BEST DRESSED FAMILY
Get in the Festive Spirit and wear your Christmas Jumpers and Accessories
We love all things Christmas, so don't be afraid to wear your favourite Christmas jumper and accessories to go with it. We will have a prize for the "Best Dressed Christmassy Family". All you have to do to enter is take a photo of your family on site at Christmas Island and send us your photo on Facebook. The winning family's photo will be posted to our Facebook page on December 24th.